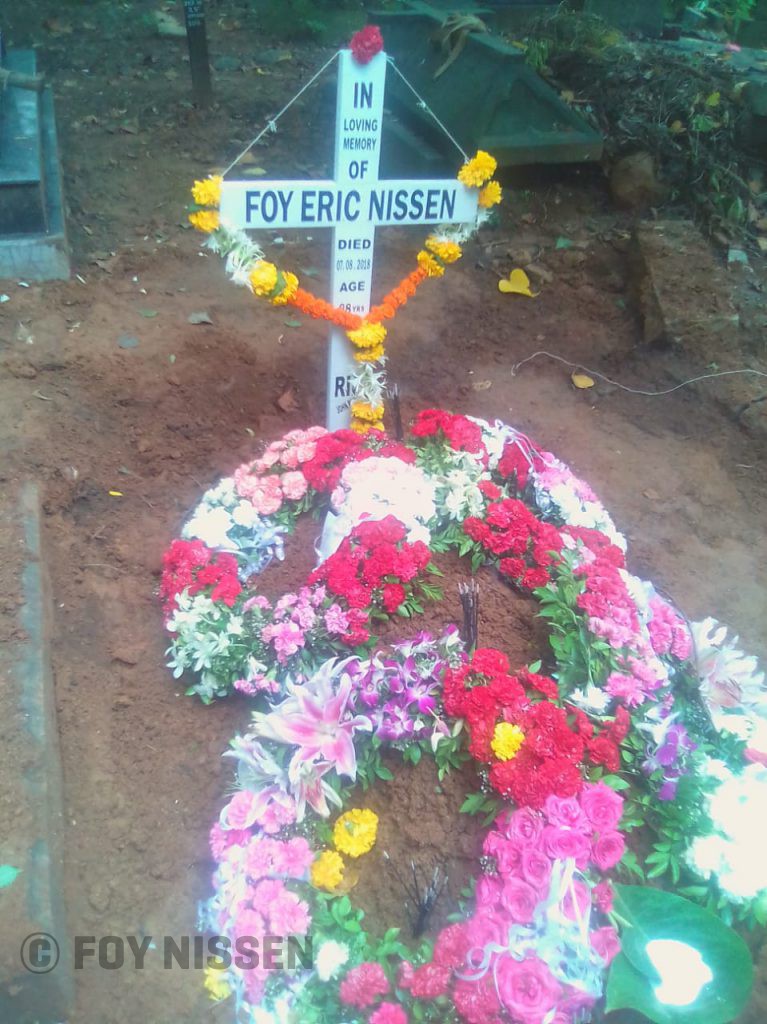 Tributes to Foy!
It's sad to let you know that, Foy Nissen, passed away at 6 AM on 7th Aug 2018 peacefully at his residence on Altamount Road, Mumbai. Since then we are flooded with the messages from his well-wishers across the world and we are trying to put as many of them in here. This page has been specially created to pay our tributes to Foy!
Several old Mumbai contacts have let us know that poor old Foy is dead, and we have been sent a nice article about him from, I think, the paper called Mid-Day, in which you are quoted. I know that Foy was an important influence for you early in your career.

In fact the last time I ever saw him, which I think was in 2012, the last time Richard and I were in India, you took me to his house to see him, but he wasn't really in any state to recognise me. So strange. He looked just the same as ever, lying in his flat with all the familiar things around him, and even sounded the same when he did say a word or two, but the person we had all known and admired just – wasn't with us any longer.
---
Rodney has just contacted me to say that Foy died today. I had hoped to call in and see him on my next visit to India, but it is not to be. I must however, send my heartfelt thanks to you and to the many friends Foy had, and to all those who cared about him in his latter years. I had not seen Foy for many years but the book you so kindly sent me is a wonderful memorial to his work and personality. Whenever Rodney is in London we would often talk about Foy but I believe that he could no longer remember who we were. After one of our conversations I did write to Foy but unsurprisingly there was no reply. He used, in the past, to write regularly to my mother and also to me in his very distinctive handwriting and I have many of those airmail letters in my possession.

I shall be very sorry not to be able to reacquaint myself with Foy but I am happy to know that he had such a caring friend in you.

Again, many thanks for all you have done for Foy and all my good wishes for your future happiness.
---
Many thanks for letting me know. This is very sad news, but at least he is now at peace, after a very long illness. We can all give thanks for his remarkable life and I am so grateful that he had good friends surrounding him in the difficult last phase.
---
Thank you for letting me know.
Foy was a lovely man and I hope his passing was peaceful. He shall be remembered.
---
Many thanks for letting me know. I shall always remember Foy's friendship, kindness, hospitality, and sparkle, his sense of humour. Of course another attraction was Mangla's cooking. But we lost him a long time ago. In many ways, he was Mr Bombay.
---
I was very sad to learn of Foy's passing. He was a great soul and generously introduced me to hidden Mumbai, to Bombay Duck (via dear Mangala), and Goan cashew feni.

I know that these past years have not been easy for him or for his careers. His friends are extremely grateful that he was enabled to live in grace.

Thanks for your care and for letting us know.
---
Sad. Said a prayer for him.
Thanks for informing me.
---
I heard the news about Foy two days ago while travelling. Vikas was in touch and I've since heard from a friend in Ahmedabad who saw report of his death in the newspaper. It made me sad that I hadn't been in Bombay now for almost two years and hadn't seen him since early 2017, and more upsettingly, I hadn't been in touch with you for such a long time – you who had been, along earlier also with Ratan Lalkaka, such stalwart supports to dear Foy. How wonderfully fortunate he was to have such friends as you around him. Life is different for so many people now, not least, I imagine for you, but you were truly steadfast in your friendship of him, without limit.

I am also in your debt for a copy of the wonderful book you sent, based on Foy's photographs. Many congratulations on putting this together. What a handsome tribute to him and how grand that it could see the light of day while he was yet alive. I should have responded to you about this before now. Picking it up now and looking at the photographs – some of which I knew but most of which are unknown to me – fills me with sadness, but also with immense gratitude – gratitude because I had the pleasure and joy (along with my parents, partner and ever so many friends) of knowing Foy. This especially as for many years he was still such a wonderful and vibrant personality, full to the brim with enthusiasm and delight in 'his' great city. Trips on his scooter – registration number MR X – was one of my fondest memories of him. It was a great privilege for me, and it is clear to me now that without Foy's friendship I would never have understood the city even to the extent I do, though for many years now it has been my favourite city in India. That appreciation is, in so many respects, due to Foy and to his inestimable knowledge of the metropolis.

The newspaper report I mentioned has now been sent to me, though I won't receive it until tomorrow. In that, though I hope to hear a little about the time between when I last saw him (Jan/Feb 2017) and now. Of course, I realise that the last days must have been difficult, as indeed many earlier ones must also have been. I shall always remember though the tender care and attention to his comforts that his carers gave to him, marshalled so brilliantly by you. Thank you.

May he rest in peace.

I hope to be in your great city once more in Jan/Feb and would love to call on you if I may.
---
Honoured for you asking me . Foy three letter words but meant a lot for the city that he loved and for the heritage movement. A person ready to share his knowledge and wisdom generously with all. He was the 197 (information) of the city and it's history or rather internet of his time.
---
I first met Foy as an undergraduate student in 1994. I was studying at Sophia College and was involved in a special research project which was part of a competitive extra-curricular programme for students. Students could choose any topic of their choice provided they had a mentor within the college who could act as their supervisor. Each project was done in pairs and two of our topics related to the History of Bombay. Our initial conversations with people about Bombay often brought up the name of Foy and so my colleague and I set up an interview with him at his home in Altamont road. What followed was an extraordinary association with a man who amazed us with his excellent memory, his deep interest and love for both the history of Bombay and India, and his willingness to engage with two undergraduate students who had no previous background knowledge about Bombay or indeed any specialist training in History at the undergraduate level. Foy shared us with key texts or pointed us in the direction of libraries or other people who might be able to give us a fuller picture. Our first project related to the history of Bombay from seven islands to one. Foy urged us to explore parts of Bombay including the Sewri cemetery, the Victoria Gardens (Jijamata Udyan) and other lesser known parts of the city to help us piece together our research. This initial piece of work inspired my colleague and me to focus our energies on examining the monuments and tombstones of St Thomas Cathedral in the Fort area of Bombay. So our next research project sought to explain how the different memorials and theirs stories were a 'Reflection of the Raj.' After my undergraduate degree, I continued to be in touch with Foy as we shared a common love for visiting graveyards associated with the British in the hill stations and towns of India. Foy introduced me to the British Association for Cemeteries in South Asia (BACSA), and would always have some interesting story to share about a graveyard that I had visited on my travels. My debt to him for sharing his stories and his love for Bombay's history is immense, and I will always remember with gratitude his warmth and kindness, and Mangala's delicious cooking!
---
"Bittu has let me and Faith know that Foy has died. I asked him who I might write to and he told me that you were the best people to whom I might convey our condolences since in these latter years it is you who have cared for him so superbly and we are all in your debt for that and not least for the wonderful book you created 'Foy Nissen: the quiet genius'.

Although my own time with Foy was very fleeting, all things considered, yet he was a vital friend for me and later my wife. I first met him in 1970 when I was working in the Maharashtra History of the Freedom Movement office and living in the Shalimar Hotel. I was there for the whole summer and don't know how I would have got on without his friendship – and I learnt so much about Bombay from him. If memory serves, this was just when he was getting ready to move into Olympus.

The Christmas and New Year after marriage (1973) saw me and Faith in Bombay again, and Foy was extraordinarily generous with his hospitality. We went on trips to Khaneri and to Bassein; and when I blistered my toe he spotted that the red streak rushing up my leg actually needed some medical attention!

Subsequent visits were rare – again very briefly in the late 80's and early 90's when I brought in stocks of high quality black and white raw film from England for his camera; and we had an expedition to Pune where, on the Deccan Queen I ate the best scrambled eggs ever.

We saw him at some time, it must have been in the late '70s or early '80s when he came to London and stayed in our (then) house in Islington, and he visited Cambridge and stayed with us here also.

But otherwise not until the last occasion in 2010, when he made a tremendous effort to receive us in 608 Olymus with fruit, and we went out on a small jaunt to the refurbished Museum. He was still in good form, but it was sad to see the beginning of his decline.

We corresponded at least once a year, and he was kind to students and friends we knew journeying through Bombay.

Although one would say that his passing is a relief it is none-the-less a terrible shock when it actually happens and one is left just with memories. But how fortunate that memories of Foy are so vibrant and so wholly good – so in that sense he remains with us still as that quiet genius with such an abundant gift of friendship."
---